Are you looking for a new supplier to create a can filling plant, or to simply integrate a new machine within your production department? Here's why Comac is the right choice.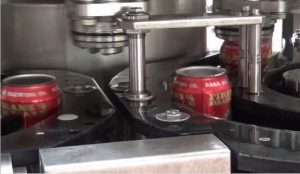 If you run a beer brewing company and need a fast and reliable product packaging service, the ideal solution is to choose an automatic can filling system that meets your needs in terms of speed and precision, without compromising on product quality.
Comac has various automatic canning plants designed to meet all types of requirements. Let's take a look at their features.
Comac can filling systems
One of our main strengths lies in the wide range of plants that we offer: these fully automated machines are suitable for packaging beverages in cans of any size made from different types of materials, like tin and aluminum.
Our automatic systems can be broken down into two main categories:
Comac boasts over 30 years of experience in this sector, during which thorough technological and raw material research and development activities have been conducted, in order to further optimize and simplify the various production processes.
Why choose Comac
Customer focus, flexibility, excellent quality/price ratio, and attention to company Welfare.
Comac is a thoughtful and caring company
We have adopted a completely customer-oriented philosophy, accompanying them throughout each stage of their experience with Comac. Due to an advanced technical support system available 24 hours a day, 6 days a week, the customer can count on immediate interventions by specialized professionals, ready to solve problems in the shortest time.
We're flexible, and are capable of meeting any requirements
Comac is part of CFT Group since 2018 and, thanks to the combined expertise of the various companies within the group, we're able to integrate any type of machine on the customer's system, offering completely personalized solutions. Comac is also synonymous with affordability: in fact, our products' excellent quality/price ratio allows to guarantee flexibility from this standpoint as well, thereby ensuring that our customers always receive high quality products at affordable prices.
Comac has been a company Welfare champion for 4 consecutive years
Our employees are our most valuable asset. We consider it essential to provide a stimulating environment geared towards continuous professional growth. This also ensures our ability to offer our customers highly qualified and motivated personnel, capable of guaranteeing impeccable service, carried out with passion.
Sustainability also plays a fundamental role within our company's philosophy. With the development of a sustainable model, which includes the installation of solar panels at all our premises, and the reuse of the cardboard packaging materials used for shipments, we contribute to the protection of our environment on a daily basis.
Tell us about your project. We'll work with you to get the job done.