Adding automatic machines to beer kegging lines is a choice that allows to increase productivity and quality of work. Here are the main advantages offered by Comac automatic kegging lines.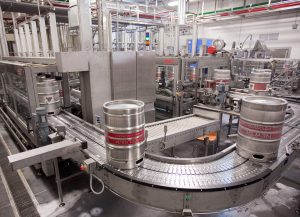 If you own or work for a brewery, even a small one, a kegging line that automatically performs all the functions is the perfect solution to fully optimize each packaging stage, keeping product quality intact, from brewing to kegging.
Let's take a closer look at the features and advantages of beer kegging lines made by Comac.
Comac beer kegging lines
We guarantee advanced kegging solutions for every brewery, even the smallest ones.
Lines in our range are divided into three main categories:
Each line can be customized with a series of accessory machines that help both the kegging phase and the depalletization and palletization operations.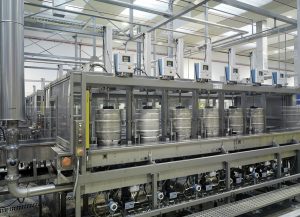 Picture: HS6T high-speed automatic line.
Features and advantages of automatic beer kegging lines
Flexibility, versatility, reliability – The strengths of Comac machines.
Comac automatic beer kegging lines offer a series of advantages that have allowed our customers to achieve great results all over the world.
They are designed to automatically perform various operations
First of all, beer kegging lines equipped with automatic machines carry out both washing and filling cycles and keg handling operations. This is a great convenience that allows operators to work safely and devote themselves to other activities that require qualified technicians.
Due to the flexibility of the layout of the automatic beer kegging lines, it is also possible to increase the floor space in the packaging department while guaranteeing a comfortable environment, which can make the workday more enjoyable.
In any case, it is possible to complete the line with accessory machines that increase its potential, such as external keg washing systems for a more thorough cleaning.
They are versatile in terms of production
Automatic beer kegging machines, while adapting to productions ranging from 40 to over 250 kegs per hour, can easily meet the requests of any customer.
They are designed to package beer in different types of kegs
Despite the growing popularity of canned beer, many pubs, clubs and restaurants continue to choose serving their customers a high-quality product from the keg, especially when it comes of the tap craft beer aficionados.
Automatic kegging lines are able to fill different types of kegs, both steel and PET, always under complete safety and without product waste.
The lines, although mainly designed to process stainless steel drums (the most popular), can indeed be adapted to process one-way plastic kegs, which are lighter and easier to carry.
Request an appointment with our professionals to learn about all beer kegging line functions and discover endless customizations.