Improved perceived quality, recycling bottles and enhancing your corporate image: the installation of an automated bottle filling machine in your factory reaps these and many other business benefits. Take a closer look with Comac.
There is an ever-increasing number of leading beverage brands who are going "back to glass" to convert their product lines into something more environmentally-friendly. Their secret weapon? An automated bottle filling machine capable of bearing the production rate.
Here are the main reasons why a growing number of companies are introducing automated bottle filling machines in their beverage bottling lines.
Why you should install an automated filler in your line
There are three main advantages due to a filler installed in the factory. Let's go through them together.
An automated filler increases the perceived beverage quality
Add a glass line to make your products more appetizing.
Glass bottles are associated with quality and "premium beverages" by most consumers. Think about it: When you sip a Coke or a soft drink from a glass bottle, doesn't it seem better than when you drink it from a plastic bottle or can?
This phenomenon occurs mainly because:
Glass does not release unwanted substances into the beverage;
The perception of flavor changes when drinking a soft drink directly from a bottle because the flow that reaches the tongue is directed to the receptors most sensitive to sweet taste;
Plastic is much more permeable to CO2 than glass, which means that carbon dioxide, or fizz, will be released from a plastic bottle much faster than from a glass bottle or can.
Consequently, we subconsciously associate drinking from a glass bottle with something of above-average quality.
If we add the fact that a high-quality automated filler does not affect the flavor of your beverage during bottling, you can really sleep soundly.
Glass bottles can be returned and reused
An automated bottle filler allows the bottling materials to be reused.
As we have repeatedly pointed out in our articles, glass is among the most sustainable materials available, because it can be 100% endlessly recycled, despite plastic.
Glass bottles can be returned, with an advantage of accessibility and sustainability to both consumers and producers.
With an automated bottle filler, you too will help support the circular economy and the well-being of the planet.
An automated bottle filler ensures financial success and a better image
Gain popularity with a glass-bottled beverage line.
Alcoholic and non-alcoholic beverage companies that opt for glass profit experience a more positive perception of the brand image. Such a choice, in fact, draws the attention of those who appreciate environmental sustainability or look for a more sophisticated beverage.
The consequence is quite logical: the more you become popular, the more financially successful you are through increased sales.
Choose a Comac automated bottle filling machine
With very short delivery times you can get off to a flying start with your new production.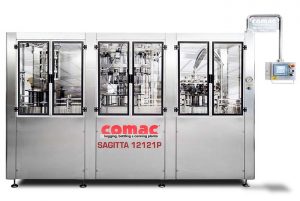 Pictured: Automated filling machine up to 8,000 bottles/hour 
All this is only possible if you have reliable bottling plants like those from Comac.
They are engineered according to the technical specifications requested by customers, choosing from the most suitable and available solutions in the wide range of machines that Comac manufactures.
The systems, all automated, cover productions:
up to 8,000 bottles/hour;
up to 12,000 bottles/hour (in collaboration with CFT Group)
over 12,000 bottles/hour (in collaboration with CFT Group)
Fillers designed for standard glass bottles can also be customized for bottles with special shapes.
Over twenty years of technical expertise in beer, wine and water bottling plants, high technology and the quality of the raw materials used guarantee system reliability and optimal performance.
Moreover, the systems are engineered to streamline and speed up changeover operations as much as possible.
Jump on the bandwagon and choose Comac to improve your production in every respect.