The bottling phase is fundamental if aiming at a wine that keeps its quality over the years – Even a single procedure, if wrongly executed, is enough to jeopardize the preservation of this precious product. Follow Comac's advice to avoid any risk.
Wine is a real work of art, with no ifs, ands or buts. Few beverages, in fact, have so many nuances and varieties to savor. It is the duty of every wine producer to pamper and protect his/her products not only at their conception, but also during the entire packaging phase.
So, how can a wine bottling equipment that fully respects this delicate product be manufactured? Let's take a closer look at the three phases that will allow the creation of a tailor-made line for you.
First step: designing tailor-made wine bottling equipment
Creating a plant that respects your product at every stage of bottling.
The care in growing the vines, the careful selection of the best grapes, the creation of the perfect recipe: all the efforts will be in vain if the wine bottling phase is not done in workmanlike manner. The first thing to do is to make sure you can rely on equipment that doesn't mess with the work done in the previous stages.
When a new line is created, Comac professionals hold an inspection and an in-depth interview first thing, draw a detailed design and select each component that will make up the entire plant.
In other words, they think of everything it takes to keep the qualities of your wine intact and avoid waste.
Second step: select and create the most suitable line components
To give you an idea of what we believe should not be missing in wine bottling equipment, let's take a few examples with the Comac machines that we generally install in wineries.
Automatic bottling systems up to 5000 bottles per hour (glass)
The equipment that increases your winery's productivity.
These systems, developed and created with the CFT group, are designed to automatically rinse, fill and cork wine bottles and can be completed with conveyor systems and accessory machines respecting the spaces available in your company.
Tunnel pasteurizer for glass bottles
Ideal for pasteurizing already bottled wine.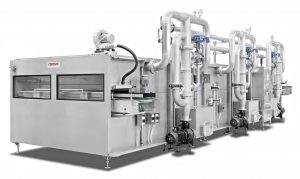 The bottle pasteurizer tunnel from Comac is equipped with an automatic system that prevents product over-pasteurization in the event the internal conveyor stops.
Available in different sizes, it is ideal for pasteurizing the already packaged product.
The unit consists of a solid structure made of AISI 304 stainless steel which is subjected to sandblasting and protective painting.
Heating and cooling tunnel
Brings your wine to the correct temperature.
Comac manufactures heating and cooling tunnels necessary to bring the previously packaged cold or hot product to room temperature.
Made of AISI 304 stainless steel, the tanks that feed the upper showers are anchored inside them and all the command and control devices for both the mechanical cycle and temperature are positioned outside.
Third step: the installation of the bottling line
Rely on skilled technicians who take care of every detail, to guarantee the correct operations of the entire line.
Once all the equipment components needed to bottle your wine are ready, it's time to assemble them. Our advice is to look for a partner who is meticulous and who will deliver the system ready to work in a very short time (otherwise who recovers all the time spent waiting?).
A plus that would further improve productivity? Having a supplier who, in addition to carefully installing the entire system, can also offer you the necessary training to ensure that your team is then able to make the most of every machine function.
If you are wondering… yes, Comac does all of this.
Now that you know all the tricks to better preserve your wine and improve your company's productivity, all you have to do is choose a partner who takes care of everything.
Choose Comac, a bottling plant manufacturer since 1990.